I have had a few posts recently that have been mainly text, well this one will be mainly pictures. We'll start with a panorama of the house as seen from the southeast.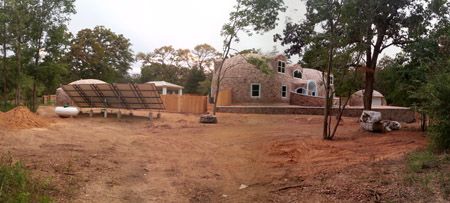 Next we have a close up of the back side of the solar array which shows the propane tank installed. This one is not so interesting, but we have been waiting for the propane tank for a while so I wanted to show it off.
One of the things I never anticipated when we first discussed this project, would be the need for a retaining wall since the ground has a substantial slope to it. Looking at the land you really don't notice it, but it has about an 8% grade across the whole thing. So when we put the house in at ground level in the back, it was almost 4 feet above grade level in the front. No big deal to build up the pad and level the house, but the landscaping needs a retaining wall to keep the root system of the big tree from being buried and causing problems. This is our retaining wall. You can also see it in the panorama above. (BTW, the blue tint to the cap is the primer, but the final color)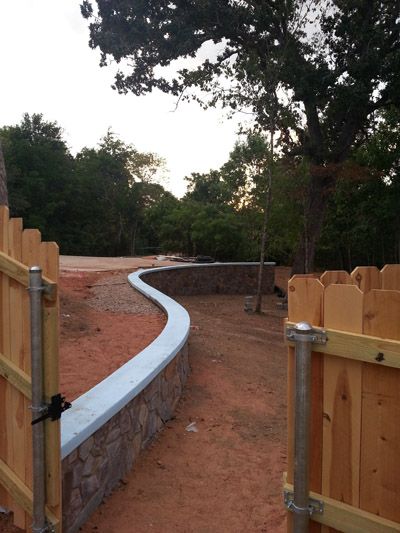 Finally we have a picture of the Jacuzzi in the master bathroom. The base cabinet is not finished yet, but you can see the backsplash and the tub itself. The window is currently clear glass, but will be replaced with frosted glass before we move in.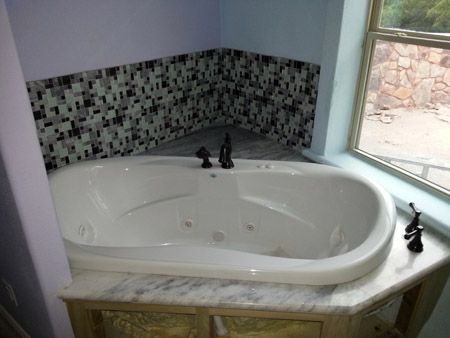 OK, I had to add one more, the pool in the backyard. With the outdoor kitchen and the pool house in the background.