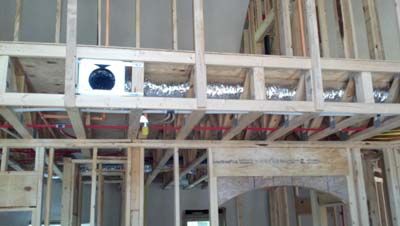 This week saw the workers start to run the air conditioning duct work through the first floor. The interior units are coming in soon and then the framers will make the closets around them. This is the last of the real framing that needs to be done. you can also see, in the above picture, the archway from the Foyer into the Kitchen.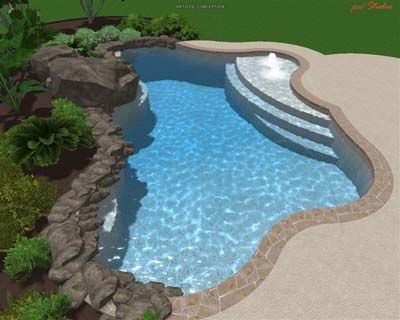 We have also been talking to the pool guy in town and seeing about putting in a pool. This is the first design he sent us, so this is far from the final design, but I wanted to put this image out there to float the idea of a pool.
Finally we see a better picture of the garage with its two single garage doors framed in place. I presume that soon the exterior person door will be installed in the rectangle you can see through the garage doors.
Finally the monolithic dome people were onsite today to measure the dormers so they can fabricate the covers which will be fused to the existing airform to ensure a water tight seal before the rock exterior is applied. I have no time scale on this, but it should happen fairly soon, maybe a few weeks or so.