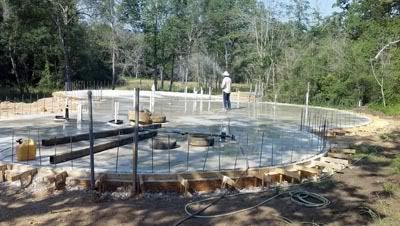 As of this afternoon the slab work in done. The photo above shows the main slab with the rebar waiting to be attached to the dome when it is sprayed. The beginnings of the radial scaffolding can be seen in the foreground on the slab. This is used inside the dome once it is inflated to gain access to the whole thing. Apparently it can rotate within the dome.
You'd have to look very carefully, but the second slab can barely be seen in the background of the same photo (just to the right of the guy spraying water). It looks nice on the full resolution one
here
.
It looks like the airform will be fitted to the slab on Monday and if all goes right and the stars align properly, it should be inflated on Tuesday. I need to positively confirm that with Monolithic this weekend, but I think that is the plan.
I probably won't have much more to post this weekend, but you never know.