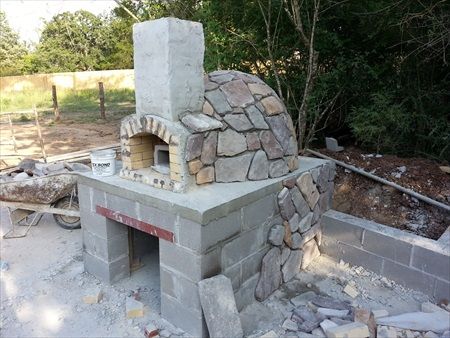 I admit the pizza oven is not quite complete, but it is very much close enough to see exactly what it will look like when it is done. The side you can't see does not have any rock on it yet, but hopefully tomorrow they will finish that up.
While they are working with the rock, the front entrance is getting a lot of attention. The small walls that define the front porch are in place and the rock vernier and the stucco caps are in place, as are the pillars supporting the awning. There are no front steps yet (which makes that first step a real douzzie) but they are coming. There will be lights on the ends of the walls and a wrought iron gate across the opening with stairs going down to the driveway from there.
They have started making good progress on the outdoor kitchen and by the weekend we should be able to better visualize how it will look next to the pool. Hopefully by this time next week I will be talking about possible move in dates.