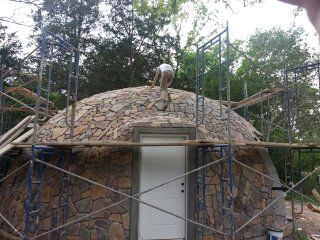 Over the last week the two smaller domes have had the rock facade applied. By the end of today they should be grouted and the scaffolding all moved to the larger house. I'll get another picture once all the scaffolding is out of the way, but I wanted to share this one now anyway.
By now most, if not all, of the floor has been stripped back to the previous layer and the leveling process should begin again soon. The last time they tried the weather got too cold and the final layer did not adhere to the foundation as well as it should have. Within a few weeks it had begun to bubble up and crack. That was back in December/January. I know most of you northern readers will be saying they should have known better, but we will frequently go all winter and never drop below freezing. That said, the forecast was for temperatures that were very close to freezing and they lost the gamble.
Today is supposed to be a clean up and take care of details sort of day. The trim crew will be doing lots of little things, and by the end of the day the stairway should be 100% finished (maybe the hand rail will still need to be stained to match, but structurally it will be done). All the baseboard should be installed and a few other little details should be cleaned up.
The granite counter tops were supposed to be cut last week, but the fabricator apparently thought we had too much money and decided he wanted to raise the price by over $3000, so our contractor selected a new fabricator and the slabs have been moved to the new location. The trouble is that the templates have to be remade and remeasured. It will be at least a week before they can be installed now. sigh. But they are not really slowing anything else down, so I guess I don't mind.