I know my picture does not match my title, so I will talk about the rock first, then move to the kitchen. Yesterday we got 6 pallets of rock delivered. They are supposed to deliver about 2 shipments of rock a week until we have 35 pallets total. If you figure that is 6 loads, then we are looking at about 3 weeks to get all the rock here, sigh. One the other hand, it is getting here, so I guess I should not complain. Now I get to be stuck in the quandary of wishing for warm dry weather to finish the house, and rain to save the plants and crops. The last two days rain has won, but today is supposed to be sunny. Maybe we can ask that the days alternate, rain one and sun the next.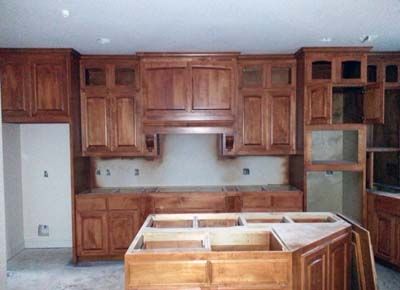 Regardless of the weather, the inside is proceeding. The granite counter tops are supposed to be installed this week and they are making preparations for them. The kitchen will be having a deep green marble on it. I am looking forward to posting a lot of pictures of different countertops in the near future.
The stairs now have treads on them. They were freshly glued down last night, so we could not use them, but they look nice. I am going to wait until the bannister is also up and post a picture of that soon.