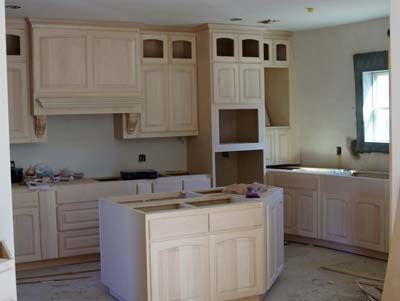 It's hard to believe that it's been almost 3 weeks since my last update and a lot longer than that without a picture. Things were pretty slow at the house since mid December, but they are picking up rapidly now. The weather is turning a bit warmer (it got up to 74°F today) and more is going on.
The biggest thing now is the cabinets are installed, as are most of the closet interiors. You can see the kitchen cabinets above, with the island in the foreground. The sink is actually inthe wrong place int he picture, but it will be moved to the opposite side later this week.
The pool is now about 1 foot full of water at the
shallow
end from the rains we've been getting. This is a wonderful thing as the water tables and ponds are beginning to fill back up from the drought last year. We still need more rain, but this is a start. The work has been on the plumbing and equipment side of the pool now. The actual interior of the pool will not be finished until the house is ready, which I am betting will be mid-March.
The front entryway now has an awning. It has actually had one for a while, but it is finally the correct awning (the first one was way too big and did not look good at all).
The rock for the exterior was supposed to be delivered today, but it has been delayed a few days. The time frame for installing it on all three domes is 3 weeks, so this is a massive undertaking. However, before it can be applied on the main dome, the first floor windows need to be properly weather sealed. one thing all the recent rains has shown us is the windows are NOT well sealed, but leak like a sieve. Everyone we have talked to about domes expressed a concern about sealing the windows, getting the window bucks square and proper, and other things about the windows. Please make sure you tell your contractor (even if it is yourself) to be very careful about the windows.