Two quick pictures this morning in the same post, rather than splitting things into multiple posts.
The floor tile in the main house is complete. It's actually not the pattern we were looking to use, but it is a reasonable alternative. This tile is in the foyer, utility room, hallways, powder bathroom, kitchen, and dining room, as well as the master bathroom and the kids bathroom.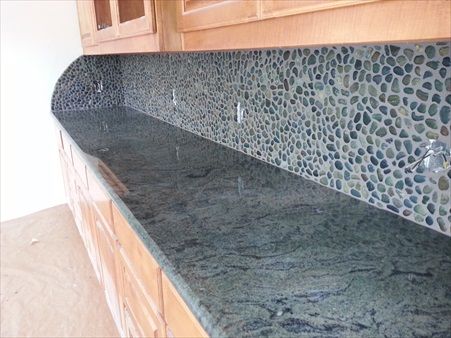 Also complete is the back splash for the dining room and half of the kitchen back splash. The picture above is the dining room. It's a deep green granite with a river rock back splash. Ungrouted it did not look too attractive, but when the grout is added things really look nice.
The outside rock is progressing as well, but we were surprised to find that no one worked on Saturday (yesterday) when the weather was beautiful (maybe a bit warm, but the longer you wait, the hotter it will get). They have the next section of dome ready with the mesh and the scratch coat, so now all they need to do is lay the rocks on that section. That should take a few days and then we'll be about half way finished with the rocking on the main dome. The contractor says he's hoping for a move in in 30 days. I can't see that happening. I think July 1st is probably a decent expectation at this point.