I'm going to start talking about our meeting with the decorator first, then show some unrelated pictures later. Friday afternoon we talked with the interior decorator, Mia, our General Contractor works with at the new house and showed her around. I feel sort of bad because she'd ask things like "Are you all more into this style or that" and we'd just look at her or each other with the "What styles are those" looks. Anyway, by the end of the meeting I think we sort of imparted some idea to her of what we were interested in.
One nice thing about meeting with her Friday afternoon is I think our contractor told the workers to sort of clean up and make it nicer (as much as is possible for an active construction site) for us to look around. As such, I took a bunch of pictures. I'm not going to use all of them today, but here are a few.
First of all is the staircase.
Next is the Dining Room window as seen from outside the house.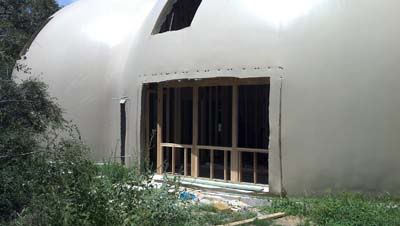 Finally, a proud (and slightly scared) little girl looking out her soon to be bedroom window.